These days, I typically only gig with one gain / drive option (ok, occasionally 2), reverb (depending on the amp), and sometimes a comp. Which ones I bring depend on the mood. I've more or less let go of all the other weird crap I used once upon a time, though admittedly there was never a whole lot of that at all. I'll admit that I just never found myself capable of doing anything that sounded better with or because of the effects, and kind of always felt like I was trying too hard so I never much went down that rabbit hole. That said, I somehow ended up with a million gains, a bunch of comps, a few reverbs, and still have a small smattering of other funky options to play with when I'm recording or just feeling like getting goofy.
Gain / Drive
Ibanez Tube Screamers: If there's one pedal I have a hard time living without, it's a Tube Screamer. I have several -- a few 90s TS9s (one with the Baked mod by Robert Keeley, another with the JHS Strong mod), a TS808 reissue, and a TS808-HW (handwired with true bypass). I used to have an old 80s rack mount multi effects unit that had an 808 in it but the connector for the pedal board died and the whole thing became useless. Without the internet to track down arcane spare parts it was very hard to maintain gear like that at the time... That unit also had a compressor, chorus, flanger, and phaser -- loved that thing to death....literally! While they're clearly all in the same basic tonal family, each has a distinct character and response.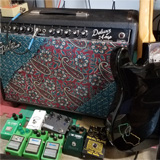 I like them individually, or in a live situation chained together on different settings -- the cascading gain stages gives a huge range of overdrive sounds, particularly when driving the front end of a nice tube amp. If I'm trying to bring a minimalist rig to a gig and want to keep it to a single pedal, one of the 808s with the Deluxe or the Vibrolux Reverb is generally the choice. In Oversoul I started with the Trey-style chained Tube Screamer sounds in front of the ultra-clean Showman. While I always had at least one TS on my board, my Oversoul sound ended up drifting more towards the FullDrive and TC Distortion pedals which leaned towards the heavier gain sound. By the King Harvest years, most of my gain tones were back to various Tube Screamer combos in front of a Boogie early Mark III (black stripe).
Fulltone Fulldrive: The original red model from back in 1995 (hand signed and dated inside by Mike Fuller). The overal sound is a broad band drive with a fuzzier and heavier breakup than the TS sound, and it has two separate channels (with a push pull knob on one to cut the natural compression), and a HUGE tone. Very flexible workhorse in one unit. This baby is all over the Oversoul Grow record. Mike Fuller rocks! I've tried the newer ones, and they're nice, but they're just not quite the same...
Chase Tone Secret Preamp: The Secret Preamp by Chase Tone is a clone of the legendary preamp in the Echoplex, renowed among players in its heyday as a secret weapon in creating the warmth, detail, and dimension they were looking for, even when the echo was not engaged. Kyle hand builds these units with the highest quality pro audio components and recreates the original circuit in exquisite detail. The fans describe it as a Big 3D Tone, and remark on how it transforms other amp and overdrive tones that are lacking. It does not disappoint. I generally just sit it on top of the amp and just leave it on the whole time.
Arc Effects Klone: The Klone is one of the crowded field of clones of the quintessential Klon Centaur. From clean boost to gritty gain with a lot of tone control, this thing does exactly what I love -- drive the front end of a tube amp, and give me an incredibly touch-responsive gain response that works with the dynamics of my playing style. Depending on the type of gig, this might be only pedal I bring (though my Tube Screamers get jealous being left at home). There's nothing like it!
Keeley Katana: I became aware of Robert Keeley in the mid 90s when he was modding foot pedals -- I sent him a TS9 for his baked mod and (particularly in light of the higher gain sounds I was looking for with Oversoul) I absoluely loved his work. Now he didn't invent the concept of using a clean preamp to push a tube amp front end to break up, but as far as I know this is the pedal that re-introduced that concept in a modern pedal design that is clean and quiet. It does exactly what it advertises -- keeps the original tone of your guitar and amp, but pushes the front end of a tube amp brilliantly to get it to give its best. It can also be used as a volume boost for solos and the like, but I like it best to toggle as almost a "channel switch" to hit an amp like a Deluxe or a Champ that gets as loud as its going to get around 4 or 5, but is just barely breaking up -- then adding the Katana boosts the gain without adding volume, giving you a footswitchable option to toggle between a bit light grit and full saturation.
T.C. Electronics Booster / Distortion: A very different sound than my other grit pedals -- a more focused, narrow band distortion sound that really cuts through, the T.C. is the go-to. Those Danish engineers know what they're doing, and they make TONS of great products. It works as a clean boost and DI, too. Bonus.
Tubeworks Tubedrive: Actual tube overdrive in a stomp-box. Hard wired AC line cable to power the onboard 12AX7, this was my first foray into actual tube overdrive (the Showman has so much clean headroom you can't get it to break up, and I didn't get the Deluxe or Vibrolux until much later). It's got a fuzzy drive that's full and warm but focused enough to not get out of control on higher gain settings, which is where I like it best. I used this quite a bit with Oversoul but ended up giving it to Zac at one point. Just got one again recently for old times' sake, and it just makes me want to play Oversoul songs!.
Boss OD-2r Turbo Overdrive: Perhaps I'm revealing my biases, but I really did not expect much out of a Boss distortion unit. I found this one at a pawn shop and it really suprised me with a fairly versatile, warm, smooth distortion sound. This one is nice when I want something that doesn't have too much specific character and doesn't cover up other elements in the mix. I used this a fair amount for rhythm sounds in King Harvest.
Time Based Effects
JHS Milkman: So many delay pedals come and gone over the years, with the Boss Digital Delay (power suck -- used to have to change the battery at set break to get through a second set!), TC Electronics Flashback (too complicated), Ibanez (too low-fi), Lexicon (too digital), and many more. The Milkman ends all that nonsense. Simple but powerful little delay unit that just does tight slapback, and has a separate clean boost channel. Great for that country twang chicken' picken sound, and super versatile across the narrow range of the type of delay I tend to like. The boost is incredibly cool sounding, warm and hairy without actually breaking up (but, like the Klone, can really push the front end of a tube amp into creamy gain territory. Given how nice that sound is (and that it's all I really need in the delay department), this guy almost belongs in the previous section because I love it even without the delay engaged. Paired with another smooth drive like the JHS Strong Mod Tube screamer, this thing sings!
Strymon El Capistan: Strymon's pedals are the gold standard, and this tape echo emulator is no exception. It's got all the tape manipulation bells and whistles (wow and flutter, tape age, etc.) and is incredibly versatile. Tap tempo is also super useful for being able to dial in the right length for the music. I generally set this one to a longer delay, and use the Milkman for the slapback.
Catalinbread Topanga This unit was designed as an emulator for Fender's 60s tube-driven spring reverb tanks. I don't need the full blown saturated surf tone (I usually keep the reverb on a Fender amp at about 2 or 3...), but I love the authentic Fender reverb tone. For my vintage blackface Showman and Deluxe that don't have on-board reverb, so I set up the Topanga with the dwell way down, the mix on full, then jump the channels on the amp and pipe the Topanga back in through the normal channel, using the normal channel volume as the reverb control. It's amazing, and works great!
Strymon Flint As a vintage Fender amp devotee, this is my new favorite pedal. It's got reverb and tremolo, reproducing several flavors of each from Fender's various 50s ans 60s golden age. They're spot on and alow me to get exactly the Reverb and tremolo I'm used to from my Blackface Fenders even on a rented backline rig. Also very useful when I take out my Deluxe, Showman, or Bandmaster, which don't have their own reverb. What makes this one truly special though is how well it nails the Brownface-era harmonic tremolo which I like even better than the Blackface era optical. Fantastic unit that I use constantly.
ElectroHarmonix Holy Grail Mini This little box toggles between Spring, Hall, and a (essentially useless...to me anyway) flange / reverb combo they call Flurb. I bought it to install in my Natural Music Guild console steel guitar with built in tube amp. Turned out the onboard amp was shot so I bought a 70s Fender Champ to install in it, which also doesn't have reverb. Haven't gotten around to installing the Champ in the guitar, but I stuck the tank in the back of the amp in the meantime and have been using it for a pratice amp with my Esquire and really liking it on the spring setting. It's a pretty convincing emulation of a Fender tank, at least at the lower settings I typically use. It sounds particularly good with the steel guitar which just begs for a dripping verb. Bonus, this thing was dirth cheap -- keeper!
MXR Analog Delay: VERY straightforward basic 70s era delay tank -- and speaking of tanks this thing is huge and bright green (kind of like a Tube Screamer, come to think of it...). Mine is the 3-output, no-LED model, so my best guess is late 70's, early 80's. I've actually got the original box and literature, which is rare for stuff like this. As with all of these, its hard wired for AC power, so a bit of a pain in the neck but worth it. I really don't need much in the delay department (just a little bit of slapback and I'm good to go), and this one delivers, despite being ugly as sin. Given I really prefer the short delay sound, it doesn't much matter to me that this maxes out at a couple hundred ms, which is a common complaint from others. I've tried the newer Carbon Copy models, and they add some bizarre kind of chorusy shimmer and modulation to the tone that always bugged me, so I went back to the old faithful. The Milkman has since taken over as my primary go-to, but this one has a lo-fi quality that is interesting and fun in some situations.
Dynamics
Keeley Comp: Not quite the mojo and color of an old DynaComp, but a LOT quieter and generally more useful. Given the challenge of using a compressor with no LED on light in a live setting, I'm generally more inclined to use this one for performing. I've tried the 4 knob version as well and found it a little too smooth and transparent for my taste (for a guitar stomp box I'm more into the colored Ross / MXR style effects) and, given the additional controls, harder to dial in a good tone, so I've stuck with the original 2-knob version from the 90s.
Ibanez Compressor: Another effect from my UE400 (may she rest in peace), this is a nice colored compressor that I generally use to roll off transients and generally squeeze the signal to increase sustain on high gain leads. Sort of reminiscent of the Ross style compression, it does a great job doing what it does well without completely sucking the life out of the tone.
MXR DynaComp: Again, I've got a couple of these from various vintages, including one from the mid 80s (that sounds great, but annoyingly doesn't have an LED to see when it's on...). Definintely an acquired taste, and not particularly versatile, but the DynaComp has that distinctive Nashville sound on the country stuff (also nice on steel guitar). Tele on the bridge pickup, light TS crunch, a Fender amp, and I'm in chickin' pickin' heavin'.
Ernie Ball Volume: Not an "effect" per se, but this unit is essential. Totally passive (and absolutely silent) circuit, in a bulletproof annodized aluminum chassis. Used primarily with my steel guitars, I do occasionally kick over to it in an electric guitar solo for interesting effects, or to use it as a manual tremolo unit (listen to King Harvest's "December's Ghost" for an example).
Other
Ibanez Phaser: I originally fell in love with this effect (listen to the heavy phasing riff in the middle section of Don No One) from my 1981 UE400, which had a compressor, original TS808 tube screamer, chorus/flange, phaser, and an external effects loop all in one! When it died and I got rid of the unit (alas it was really only the footswitch that died...what a waste of a bunch of effects!), I went out in search of a replacement. NO luck on tracking down a full UE400 in good shape, but I did find the original stomp box version of the phaser at a pawn shop and bought it instantly.
Electro-vibe Micro Q-Tron: What can I say -- I learned to play guitar by jamming along to Grateful Dead tapes (yes, actual "tapes", anyone remember those?) and every now and then I can't help but throw down a few envelope filtered Jerry licks...