. . . Bluegrass, folk, country music, timeless music, music sung around the moonshine still, sung on the back porch, sun setting; hills glistening . . .
Americana and roots music has a long lineage. Bill Monroe, Bob Dylan, The Band, the Grateful Dead to today's heroes, Whiskeytown and Wilco, the family tree of roots music is enormous. John McGaraghan is just another in the long standing tradition of this genre.
While he is influenced by the sounds of his ancestors, he is by no means weighed down by the past as Nietzsche often warned. No, hardly, John creates his own disparate sound. Lyrics and instrumentation, which often call to mind the spirits of Monroe and Parsons, yet he refuses to become a side act or a purveyor of "show tunes".
. . . Six shooters on main street, dust and beer on their faces as they enter the saloon. "One beer, here, hell let's make it a whiskey", shouted through the menacing air. Boots, and spurs jangle . . .
Imagine if you will, the best of all roots rock, ever. The high vocals of Bill Monroe, with the bluegrass chop, the harmonies of Crosby Stills and Nash. Mix in somber lyrics of love and loss ala Parsons, then a dash of Merry Prankster psychedelia. That would be the perfect definition of John's music and sound.
Here, amongst us in the modern day, during the time of boy bands and hatred-fueled bands, he creates a sound that may not belong. A slip or tear in the space time continuum one can assume. For it seems strange that a man boding such an array of talents and thoughts could operate during this time period. Let's just say it is a secret. A treasure, like that old goldmine, or hidden patch of forest, with the flowing stream, trout jumping as you stand alone tying your fly. Yes, it is there and it is for you to enjoy.
. . . Appalachia, the high lonesome sound, banjo strings, rusting, while the porch planks squeak under the pressure of people dancing to that high lonesome sound. Leather hats, become soaked in sweat love sweet love under the stars, moon and stars . . .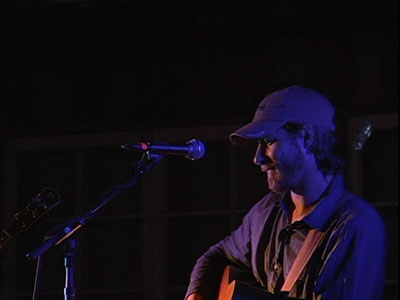 For over fifteen years John McGaraghan has been creating this sound, this secret stream. His previous outfits, Oversoul and King Harvest, garnered serious attention for their groundbreaking mixtures of americana, psychedelia, and pure roots rock and roll. Since their disbandment, John has forged his way into the deep apotheosis of Americana. His pursuit for that sound, to not just copy the paradigm, but recreate it, has led him back to his native stomping grounds of California. Land of the gold rush, land of golden hills, of Americana. Slowly his music is bearing the fruits of the move. Songs like "Northern California in the Rain" and "Lost Along the Way" bear the innocence of his ancestors, yet are redolent with his life affirming adventures. We as the crowd can only enjoy this treasure, cherish it and hope that his pursuit and path continues.
. . . The suns set, and the folks sleep. Six shooters lay drunk on the bar as the ragtime chords keep emanating from the upright piano. Wet heads, wet leather hats smelling musty and old, moonshine, comfortable and known. The planks stop squeaking. Finally, the planks stop squeaking. And the moon keeps shining . . .
--c.f.orman, 1999
Amazon Recommended Links