1983 Ibanez Artist, AM-50
This semi hollow body from the "Artist" series is the John Scofield signature model, and was my primary live and recording electric guitar from 1996 (when I bought it to replace a sunburst American Telecaster that got stolen -- I still miss that guitar!), right through my tenure in King Harvest. At first, I had been looking for another Tele, then got to trying Gibson ES-335's, which I loved except for the strange, end-heavy weight distribution (and the price tag, although in retrospect I wish I had bought one then given how much they've gone up in value in the past 20 years...). Having been a Strat/Tele guy previously, I'd never really appreciated the joys of a pair of high output humbuckers on the front end of a tube amp! Then one day I walked into Scott's Guitars in El Cajon and saw the Artist on the wall, and its scaled down size exactly fixed the weight problem (and it didn't have a 335 price tag hanging off it either...). I tried it out and loved its tone -- a lot like the 335, but somehow more focused and intense. The ebony fretboard is fast, the dual Duncan Super 58 alnico humbuckers are hot, and the semi hollow body gets an incredible range of sounds. Except for the lap steel solo on Two Eternities, all of my electric guitar work on Oversoul's Grow album was played on this guitar (through the Showman head, and an old Hi-Watt 2x12 cabinet loaded with Celestion Classic Lead 80's).
1983 Fender B-bender Telecaster
This black on black beauty was made in the Fullerton plant in the last year before they shut it down. People tear the CBS era guitars down, but at worst the issues from that period were about consistency (or lack thereof) and there are always gems to be found -- this piece is a fantastic specimen for the era. Mine is outfitted with a Hipshot B-bender, which I love for all those tasty Clarence White steele-esque licks (I try, but no one does it like the master!).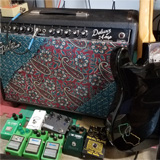 With 11's using the fingertips to pull whole note bends on the B-string can really start to hurt after a while, and the bender helps ease that some. It also has a low E-string detuner for easy switching to drop D tuning, which I use on a lot of songs. Nice old school single coil pickups with that classic tele spank and twang (but without all the noise of the 70's strat pickups), and the lipstick pickup in the neck position has a creamy warmth to it that makes it very versatile. This guitar really is everything I need for almost any situation. It's really great to have an American Tele back in the lineup! That said, at 9.5 pounds, this one can be brutal to get through a long set with... While the Artist probably has the most playing hours on it of all my electric guitars (the Taylor has by far the most overall...), this Tele tends to be my go-to these days, particularly since I'm not playing multiple hours of standing gigs several nights a week. At one point I took a router to it and etched an outline of California featuring an exagerated lake Tahoe, so this is my CaliCaster.
1978 Gibson SG
Another black on black beast, to match my black on black Tele. While I'm generally a Tele / 335 kind of guy, I've always wanted an SG for that Doors / Cream / Zappa thing (OK, OK, I love me some Angus Young and Tony Iomi too...), so when a friend offered me a deal on this mohogany SG that he wasn't really using anymore, I jumped. Again, while folks tend to trash the Norlin era Gibsons, this one sounds and plays great despite the inconsistency of the era. This one is truly a "player's grade" guitar, it's been repainted, had the classic SG cracked headstock repaired twice (once before I owned it and once on my watch...). Despite being beat up and ugly as sin, it has otherwise held up well and still plays great. As an added bonus it's the lightest guitar I've ever picked up -- a joy to play it all night... The twin humbuckers throw out a ton of gain, and the low action is great for playing fast and dirty, and it can really scream when you want it to. While I almost universally play all my guitars with all the volume and tone pots all the way open (occasionally I roll a tiny bit of treble off my Tele's -- thanks Jim Campilongo), the throaty growl that comes out of this thing on the bridge pickup with the tone knob rolled all the way off is truly a thing to behold. Really a versatile blues and rock machine.
1978 Gibson ES-335
Ever since I got the Ibanez Artist during my Oversoul days, I wanted the "real thing". Over the years I came to really understand and appreciate that Artist, and I think it was absolutely the right guitar for the bands I played it in, but I never stopped wanting to get my hands on a real 335. Years later when I was actually close to being able to afford one I started looking in earnest, but was continually frustrated to find that the ones in my price range were compromised in some way (whether it was a bad repair, an ill conceived mod, or the like), or I missed the timing or was outbid. I had all but given up, and one day wandered in to Gryphon, and there was '78 355 in a gorgeous wine finish, and with a totally reasonable price tag. The pickups are outfitted with coil tap that I never use, but other than that it's a beautiful looking, beautiful playing, and beautiful sounding 335, and now it's mine!
1978 Fender Stratocaster (hard tail)
I love that classic Fender Strat sound that I've heard from many of my heros (from Jimi to Clapton to Lowell George, to Gilmour, to SRV) over the years. That said, and I never use a tremolo bar and am too lazy to deal with the tuning issues that come with it. That's why I originally gravitated to the Telecaster -- great Fender tone, but with a no-nonsense hard tail. Soooooo, when I found a vintage Strat hanging on the wall at a local San Diego shop and noticed that it was a hard tail, I was intrigued. I hadn't even realized until then that they made Strats with a hard tail! All that vintage creamy Strat tone and mojo (and a gorgeous and rare Sienna Burst finish), but with a Tele-style string through body and fixed bridge. Super smooth lacquered maple neck with no fretboard. At a little over 7 pounds, it's also by far the lightest vintage Strat I've ever picked up. The original single coil pickups are pretty noisy, but at stage volume not a huge issue for me. I really love it for playing slide, and I get a great old Lowell George sound out of it, particularly with the right compressor (there's nothing like that chained 1176 sound of course, but I use one of the newer Keeley comps with a mix knob to get more of a parallel compression sound). You can hear it on the main rhythm track of King Harvest's recording of Numb and the lead electric on my solo recording of In the Lee of the Stone. I recently decided to sell it and even brought it to the shop to list for consignment, but after cleaning it up and doing a little work to get it ready to show I picked it up and played it for a couple hours straight and realized I was crazy to think about letting it go!
Custom Build Esquire
American Standard Tele body (Olympic White, heavily relic'd) with the neck rout filled in, a Q-Pickups David Giloumr '55 Esquire replica pickup (a marvel of period correct build and sound), Mighty-Mite one piece maple neck with vintage tuners, three-way switch with the Eldred Mod in the forward position, and 500K CTS pots with a .10 tone cap, vintage brass saddles and a top loader bridge plate. This thing screams and it's crazy light so I can play it all night long without turning into a hunchback! For kicks I've turned the control plate around ala Bill Kirchen (Commander Cody, etc.), which makes the volume knob easier to access for swells, etc. and I honestly feel like the switch is easier to use in that position as well). The Eldred mod gives a moderately usable third position that standard wired Esquires generally lack.
"Partsquire" Esquire-style Frankenstein
I picked up this old beast of a guitar for super cheap that had been stripped and beaten to a pulp. It was already configured as an Esquire, but had a double blade DiMarzio humbucking pickup (with a push-pull coil tap on the volume knob). The neck was a cheap knockoff with sharp frets and a Rosewood board, and a bunch of junk hardware on it (and a Fender Custom Shop decal!). I replaced nearly all the parts but the base plate, and left it an Esquire -- a Fender-licensed one-piece neck with vintage tuners, Harmonic Design Vintage 50s pickup, NOS brass compensated barrel bridge pieces and brass string ferrules, etc. I re-did the wiring, getting rid of the switch and wen to just a two-hold control plate with volume and tone only. I've considered experimenting with different fixed EQ settings, blower switch, or perhaps even going to a one volume knob setup. The nice thing about this one being a beater is that I can experiment, and it's been a really fun project and great way to polish my tinkering skills.!
Early 1950's (1952?) Magnatone Troubador Lap Steel
I bought this instrument about a week before Oversoul went in to the studio to record Grow (around the same time as I bought the Ibanez Artist) and it made its debut with a prominent solo on Two Eternities (tuned in standard guitar tuning because I didn't know any better yet...). It's basically an 2 by 6 plank with a tiny bit of shape sawn off the side, and a really hot pickup and a volume pot in it (doesn't even have a tone pot!). I made heavy use of it on stage with King Harvest, and it's been featured on a ton of my solo recordings as well. I found it at the Blue Guitar in San Diego in 1995 in its original (albeit road-worn) tweed case. Blue Guitar has since moved locations a couple of times. Steve Neal, one of the founders, is a genius luthier and has done a ton of work on my Taylor over the years.
1954 Fender Deluxe Single 6 Lap Steel
This one kind of fell into my lap, so to speak -- right place, right time, etc. It's got the unique trapezoidal pickup with the strings running through the middle, inside the top/bottom magnetic field. Pretty wild. In great shape for a 60 year old 2x6. Super creamy tone, not quite as hot or aggressive as the Magnatone, a little less bite. Beautiful mahogany wood with a clear natural finish.